What's the point of writing a blog post, if no one ever reads it?
If you want your blog posts to actually be found in Google and read by potential customers, then it has to be easy for both humans AND search engines (like Google) to read and interpret the information.
But how can you make your blog posts SEO friendly?
This simple checklist will help your site to bring in more readers and search engine traffic from every single blog post or article you publish on your site!
Exclusive Blog Post Bonus: Click Here to Get Access to a free bonus checklist that will show you how to write a top ranking blog post.
1. Write a Magnetic Headline That Attracts Attention
First things first….write a catchy headline.
Why?
According to Quicksprout, 8 out of 10 people will read your headline, but only 2 out of 10 people will read the rest of your post.
When you craft a headline that is magnetic and attractive, the number of people who will actually read your post increases dramatically.
The easiest place to start is to take a look at copywriting websites and see what format they use for their blog posts.
Tabloid magazines are masters at writing catchy headlines that make you want to pick up the magazine, and read the articles (and then buy it!).
Awesome stuff!
2. Break Up Big Content Blocks
Breaking up the content using headlines, boldening text and using short, easily scannable paragraph makes it a lot easier to read.
Smaller content blocks with sub-headlines (h2's and h3's), dot points, numbered lists and images make it a lot easier to read.
The Key Is To Make Your Content Scannable
Big slabs of text are uncomfortable to read – break them up into shorter sentences so they can be easily scanned by the eye.
You only have a couple of seconds as visitors tend to read the headline, then scan through the posts sub-headlines and images that stand out.
Don't make it hard for them to do that!
Break it up into smaller chunks and follow the example of "The Perfect Blog Post" below, or check out Matt Banner's great guide, 'How to write a blog post with perfection'.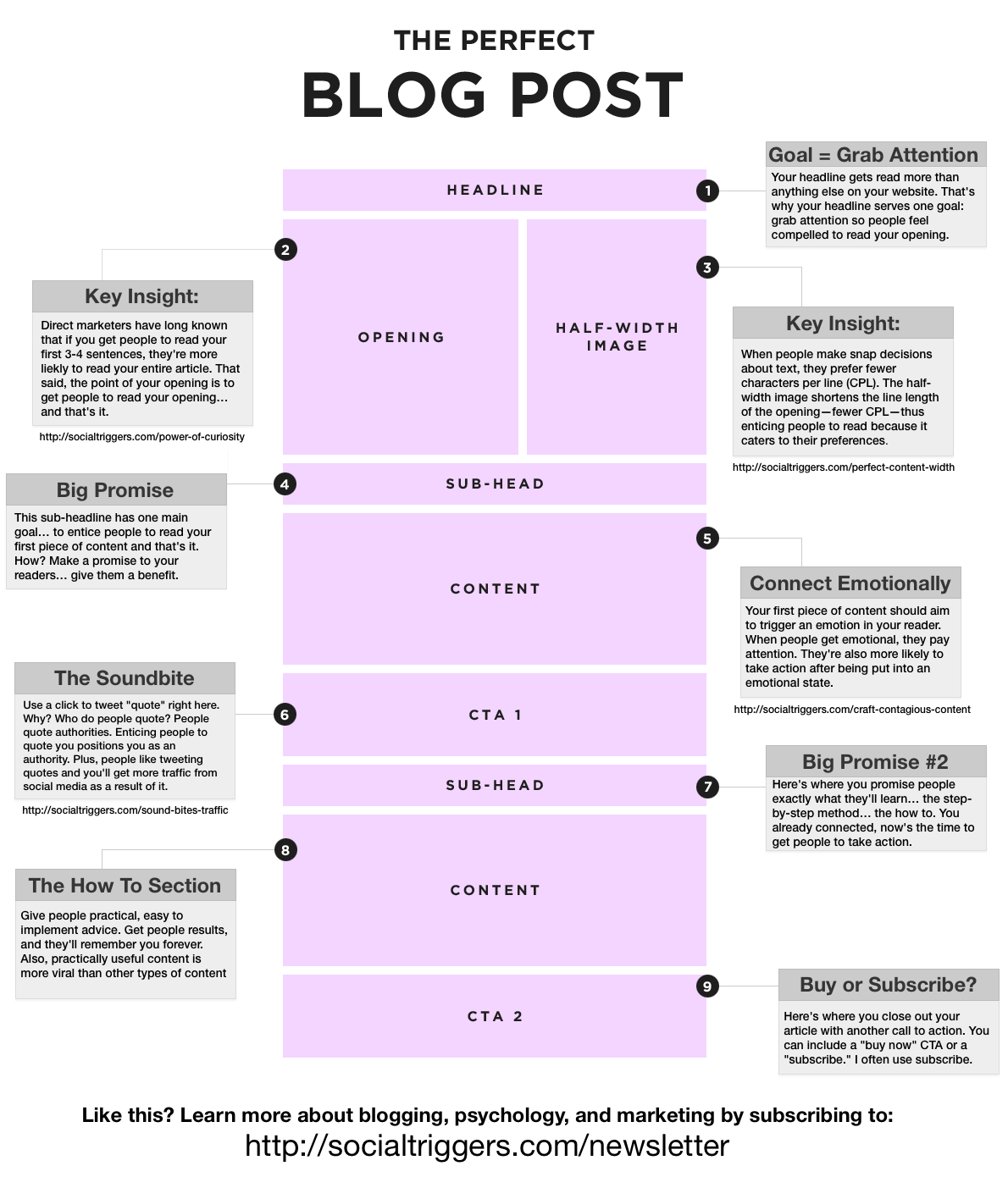 3. Longer Content Is Better (Most of the time)
You think that 300 word blog post is enough?
Nope!
The longer your content is, the better it is in the eyes of Google.
We've found that a 2,000+ word comprehensive 'mega article'  about a single topic once a month, is going to net you 10x more links and social mentions than five short 300 word articles.
Why?
Well, on average, longer and more comprehensive content gets shared more, linked to more often and sharing is adds more value to readers than shorter posts.
This is 'money' when it comes to SEO.
More links, likes and shares = better SEO rankings!
4. Write an Engaging Page Title & Meta Description
Page titles and meta descriptions have been around since the beginning of the web.
They are still vital on-page SEO ingredients for top rankings in the search engines – so take advantage of them!
Your page title is only 55 characters, so include your target keywords in the first couple of words if possible.
Don't stuff a dozen keywords in there – you've only got 55 characters
..make them count!
Use the meta description area to write an enticing reason why someone should click through to your article.
Including some keyword variations and modifiers in there also helps to improve the number of keywords your post will get indexed for by search engines.
If you use WordPress, use the Yoast SEO Plugin to help write your page title and meta description.
It has some useful tips and nice preview function which shows what your blog post will look like in the search engine results page.
5. Add Keywords In Article's First 100 Words
If you're targeting certain keywords in your blog post, make sure you include them in the first 100 words on the page.
Why? 
Putting your keyword early in the blog post emphasises that article is about or related to that keyword.
You can then sprinkle in variations of the keyword throughout the post where it makes sense as well which helps to rank for longer tail keywords in Google related to your targeted keyword.
6. Use Images, Video and Interactive Multimedia
Images, video and other multimedia make it much easier and a lot more interesting to scan through a blog post
It has the added bonus of engaging and enticing your audience to scroll further down the page.
All text and no images make for a pretty boring blog post!
Having one featured image with your post is mandatory, as this will typically be what gets used as the primary image on social media sites when the article is shared.
Canva is your friend!
You can use the free website "Canva" to create your featured image or any number of stock photo sites.
I highly recommend Canva especially if you're not family with Photoshop or Gimp.
Canva has a number pre-made designs which can be customised to suit your message and branding.
The featured image below was made using Canva – simple!
7. Link Internally To Your Own Content
Linking to your own pages within a blog post is often an overlooked strategy.
Make it easy for your readers to navigate to other sections or relevant articles within your website – but only when the articles are related, and add value to the reader of your blog post.
An added bonus of linking internally is that you send 'link juice' to other pages on your website, which can give a slight boost in search engine rankings.
8. SEO Friendly URL's
Use your keywords in the blog post's URL.
Don't stuff every keyword under the sun in there – just mention your most important ones and keep the URL relatively short at approximately 3-5 words.
The image below from Quicksprout illustrates what a SEO friendly URL extension should look like.
Google has even said that the first 3-5 words in the URL is given more ranking weight in it's algorithm.
9. Link Out to Other High-Quality Resources
All good blog posts will link out to authority resources/pages that are related to the article or the piece of content you're writing.
This is also a signal of relevancy to Google which allows it to help understand what the topic of the page is about and that your page is a 'hub' of quality information.
Being in the same 'neighbourhood' as those other high quality blog posts can be an excellent way to improve the credibility of your website.
Pro tip: Link to articles or posts on other websites that link back to yours on that page (where it is relevant to do so) – this helps to power up those links back to your site which improves their SEO value!
10. Use Common Language (No Industry Jargon)
SEO-friendly content (for local businesses) should typically NOT use industry jargon.
You want to have easy to understand articles that your customers can actually read, use normal common English language (if you're blogging in English that is).
Using personal stories, anecdotes or an excerpt from a famous person can help ordinary people to understand any article.
Here's What To Do Next…
If you enjoyed the article above, I want you to do one thing…
Use it!
Create one 2,000+ word mega resource on a topic in your niche similar to our Ultimate Guide to Local SEO.
Then, email some bloggers or webmasters in your niche notifying them of your article using our script in this video.
Once you've done that, drop a comment below and let me know how it went!
I guarantee you'll get a few links and social shares of your new SEO friendly post in no time!